Good morning.
Like Richard Branson and Virgin Galactic, the Sprint is headed to space.
But we need your help to get there. If you enjoy this Sprint, why not send it to a friend?
⚽️ Italy and Argentina get huge wins.
🎾 Djokovic ties Roger and Rafa.
Trivia:
Which tennis player won the 'Golden Grand Slam' within the same calendar year? That's the Australian Open, French Open, Wimbledon, US Open, and the Olympics.
Roger Federer

Serena Williams

Steffi Graf

Andre Agassi
Answer at the bottom
⛳ A fan casually
snagged Rory McIlroy's 6-iron
from his bag right in front of Rory and his caddie. The man was eventually kicked out of the tournament. But, if you're Rory's caddie, gotta do a bit better.
🏀 Team USA, headlined by Kevin Durant and Damian Lillard,
lost to Nigeria
87-90 just weeks before the Olympics. For context, Nigeria was a 31-point underdog.
🏀 Jalen Lewis, the #2 overall recruit in 2023,
signed with Overtime Elite
. Jalen had offers from Duke and Kentucky but chose the startup league instead.
⚾ Atlanta Braves star Ronald Acuna Jr.
tore his ACL
. He'll miss the rest of the season.
In his 17-year career, Lionel Messi has won:
10 Spanish La Liga titles

4 Champions Leagues

6 Ballon d'Ors (best player in the world)
But, before this weekend, his Argentinian teams had never won a major international tournament.
Copa America final: Argentina 1 vs. Brazil 0
Angel Di Maria's perfect chip gave Argentina the early lead.

Neymar and the Brazilian attack were held in check, mustering only two shots on goal.
Messi recorded 4 goals and 4 assists during the tournament, earning MVP honors.
Not since 1966 has England won a major international title. Unlike Messi, that did not change this weekend.
Euro final:
Italy
1
vs. England 1 (Penalty kicks: 3-2)
Things started out hot for the home squad. English fans broke into Wembley pre-match and then England scored the fastest goal in Euro final history (2 minutes in).
Following an Italian equalizer and a scoreless extra time, England fell apart. They missed three straight penalty kicks.

Bizarrely, the English manager elected to have two players who had not played the entire game take penalties instead of Jack Grealish and Raheem Sterling, two of the team's best offensive players.
For the Italians, the win caps an amazing 33 match unbeaten streak. The squad beat three of the world's best teams en route to the Euro title:
Zoom out: Between the Euros and Copa America tournaments, we got a great look at next summer's World Cup contenders. Expect each of these four finalists, plus Belgium and France, to be the favorites heading into Qatar 2022.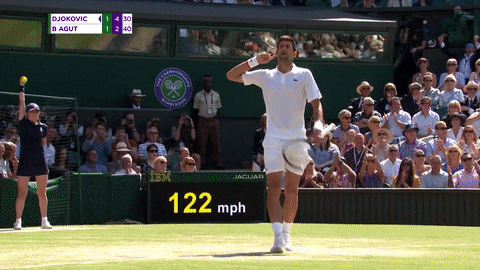 Men's final: #1
Novak Djokovic
6-7, 6-4, 6-4, 6-3
vs. #7 Matteo Berrettini
After winning his 3rd Wimbledon in a row, Novak now has 20 Majors, tying him with both Roger Federer and Rafa Nadal.

Novak has won the 2021 Australian Open, French Open, and Wimbledon. If he wins the Olympics and the US Open, he'll become the first man to win the 'Golden Grand Slam' within the same calendar year.
Women's final: #1
Ash Barty
6-3, 6-7, 6-3
vs. #8 Karolina Pliskova
Barty won her 2nd Major in dominant fashion. At just 25, there may be quite a few more in her future.
Milwaukee Bucks
120
vs. Phoenix Suns 100
Giannis Antetokounmpo (41 pts, 13 reb, 6 ast) continues to dominate. He's averaging 34.3 points per game in the finals barely 10 days since tweaking his knee.

Must-watch: The Suns' Cam Johnson posterized PJ Tucker.

Suns lead the series 2-1.
Dustin Poirier
defeats Conor McGregor
Poirier won the rubber match after McGregor broke a bone in his leg while stepping back from throwing a jab in the fight's first round. He's expected to make a full recovery.

Other UFC fighters reacted on social media, including Khabib Nurmagomedov: "Good always defeats evil."
If you enjoy the Sprint, consider sharing it with a friend. Copy and paste this link to them: https://www.sidelinesprint.com
Or, you can share by clicking the button below.
Home Run Derby - 8:00 ET on ESPN
Shohei Ohtani (+380)

Joey Gallo (+475)

Pete Alonso (+550)
Celebrity Softball Game - 10:00 ET on ESPN
C.
Steffi Graf won the Golden Grand Slam back in 1988.
Written by Nathan and Blake.
Shoot us a note. We reply to every email received.
© Sideline Sprint 2021.
2720 South Blvd #244, Charlotte, NC 28209