Good morning. Hope you've got more energy than a southeastern gas station. Let's get to it.
- Blake
Trivia: What club has won the most consecutive Premier League titles?
Manchester City

Manchester United

Chelsea

Liverpool
🏒 Russian president Vladimir Putin scored eight goals in an exhibition hockey game to promote Covid-19 vaccinations. He scored 10 goals in 2019, begging the question: has Vlad lost a step?
🏒 The Tampa Bay Lightning started three Black forwards in a "pretty cool moment." It's believed to be the first all-Black line in NHL history.
⚾ One year after the Raiders left town, the Oakland Athletics are looking to leave the Bay Area as well. Probably going to Miami or Austin.
🏈 In lieu of putting a championship-caliber team on the field, the Las Vegas Raiders are offering a top-tier fan experience instead. The team is hiring a DJ and offering bottle service in the Wynn Field Club for all home games.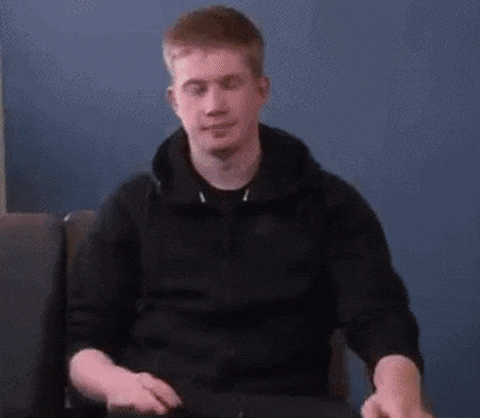 Some say you can't buy happiness. Well, Manchester City would disagree. After spending $1.2 billion over the last five years, City clinched its fifth Premier League title yesterday and its third in four years.
The quality of the players reflects the money spent.
Kevin De Bruyne (pictured above): the best midfielder and assist-man in world football.

Raheem Sterling: England's second-best player.

Phil Foden: the most valuable U-23 not named Haaland or Mbappe.
The big one remains
A continental treble is the pinnacle of success for European football clubs. It means you've won your domestic league, a domestic tournament, and the Champions League.
After claiming the EPL title and the Carabao Cup crown, City can complete the treble on May 29th by winning the Champions League.
It'd be quite the feat. Since 1955, only seven teams have won a continental treble. One of those was City manager Pep Guardiola's 2011 Barcelona squad.
The bottom line: With all that money spent, expectations are enormous for City. Anything less than a Champions League trophy will be considered a disappointment.
Fun fact: City backup goalie Zack Steffen became the first American to win a Premier League title.
(39-30) LA Lakers 101 vs. (38-31) NY Knicks 99 - OT
Rookie Talen Horton-Tucker hit the game-winning three over Derrick Rose with 20 seconds left in OT, making sure the Lakers kept a better record than the Knicks.
(45-24) Brooklyn Nets 115 vs. (29-40) Chicago Bulls 107
Despite the loss, Zach Lavine dropped his 14th 40-point game for the Bulls. Only 152 more and he'll surpass Michael Jordan for the franchise record.
(37-33) Golden State Warriors 122 vs. (48-21) Phoenix Suns 116
The Warriors just beat the teams with the best and second best record on back-to-back nights.
(36-15-5) Washington Capitals 2 vs. (33-16-7) Boston Bruins 1
Michael Raffl scored off the goalie's back with 1.8 seconds remaining to win the regular season finale, securing the North Division's two-seed for the Caps.
(19-17) Houston Astros 5 vs. (16-19) LA Angels 1
Shohei Ohtani threw 88 pitches, struck out 10 batters, and only gave up one run in seven innings before casually playing right field the rest of the game. Too bad his relievers gave up four runs in the eighth.
Must watch: Drew Robinson, who lost his right eye in a suicide attempt last April, hit his first home run of the season.
Stat: In each of his three seasons at Hawaii, Colt Brennan threw for at least 4,300 yards and 35 TDs.
Quote: I could have "reasonably competed" in the NBA at age 14.
- LaMelo Ball's confidence is rivaled only by Bitcoiners and Wall Street bankers.
I'm not even from Chicago and I read Midway Minute for its daily dose of Bears, Bulls, and baseball. Join me.
Atlanta Hawks (38-31) vs. Washington Wizards (32-37) - 7:00 ET on ESPN
Utah Jazz (50-19) vs. Portland Trail Blazers (40-29) - 10:00 ET on ESPN
Atlanta Braves (17-17) vs. Toronto Blue Jays (17-16) - 7:20 ET on ESPN+
Las Vegas Golden Knights (39-14-2) vs. San Jose Sharks (21-27-7) - 9:00 ET on ESPN+
(64 pts) Chelsea vs. (52 pts) Arsenal - 3:15 ET on NBCSN
B. Manchester United has won the most consecutive Premier League titles (1998/99 - 2000/01 and 2006/07 - 2008/09). Their 13 Premier League titles are also the most for any club.
Written by Nathan, Blake, and Eric.
Was this email forwarded to you? Sign up here.
Shoot us a note. We reply to every email received.
© Sideline Sprint 2021.
145 New Bern St. Charlotte, NC 28209