Good morning. Things got weird yesterday when horse trainer Bob Buffett blamed contaminated hay and cancel culture for Medina Spirit's post Kentucky Derby positive drug test.
As of now, Medina still plans to race in the Preakness on the 15th.
- Blake
In today's Sprint:
🏈 Tebow's back, tell a friend
Trivia: Which NBA player is the NBA's all-time assists leader?
John Stockton

Jason Kidd

Steve Nash

Mark Jackson
🏈 "Trevor Lawrence drops back, pumps left, comes back to his right. He's got Tebow, touchdown!" Yep, the Jags plan to sign tight end Tim Tebow to a one-year deal.
🏀 Russell Westbrook recorded his 182nd triple double, breaking Oscar Robertson's 47-year old NBA record. He's averaging a triple-double this season and has done so four of the last five. One of the most under-appreciated athletes today.
🏀 Celtics' guard Jaylen Brown tore a ligament in his wrist and is out for the remainder of the season. He was averaging career highs across the board (24.7 ppg, 6.0 rpg, 3.4 apg).
🏀 Rapper J. Cole is expected to sign with the Rwanda Patriots of the NBA's inaugural Basketball Africa League. Cole can ball. He even tried to walk on to St. John's basketball team when he was a sophomore.
🥍 The 2021 men's College Lacrosse tournament is set. Rivals UNC and Duke took the top two seeds while the rest of the bracket looks like this.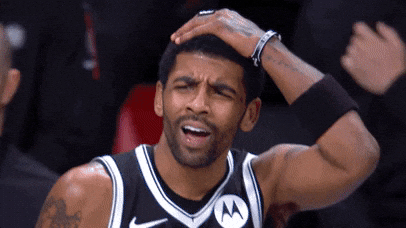 If we'd told you at the start of this NBA season the Knicks would be the hottest team in New York heading into the playoffs, you would've tried to convince us not to start a sports newsletter.
Well, it's the final week of the NBA season and here we are:
The Knicks are fourth in the East at 38-30 (same record as the Lakers).

Julius Randle (23.9 ppg, 10.3 rpg, 5.9 apg) is the New York player most likely to make an All-NBA team.

The Nets have lost four of their last five games.

The Knicks are only six back of the Nets.
With veteran Derrick Rose playing great ball, rookie Immanuel Quickley putting up buckets, and sophomore RJ Barrett enjoying a breakout year, the Knicks may do some damage in the playoffs.
The Nets are Beard-less. Superstar guard James Harden has been out since April 5th due to an injury but coach Steve Nash expects him back before the season ends. He's been a difference maker:
With Harden: 27-7

Without Harden: 17-17
The takeaway: Brooklyn, with a healthy trio of Harden, KD, and Kyrie, is the NBA's most talented team. 2021 was supposed to be their year to dominate the New York basketball scene.
That didn't happen. The Knicks are playing their best ball since Carmelo Anthony and have stolen the headlines in the Big Apple...for now.
(36-33) Golden State Warriors 119 vs. (50-19) Utah Jazz 116
(38-31) Atlanta Hawks 125 vs. (32-37) Washington Wizards 124
Russell Westbrook's (28 pts, 13 reb, 21 ast) incredible achievement outshined the game's final outcome. The Wizards are likely to squeak into the playoffs.
(16-16) Cincinnati Reds 14 vs. (14-20) Pittsburgh Pirates 1
Things turned ugly quick for the Pirates, who gave up seven in the first four innings and fourteen on the night.
(37-14-5) Florida Panthers 4 vs. (36-17-3) Tampa Bay Lightning 0
Panthers goalie Chris Driedger recorded his third shut out of the year in the regular season finale. Up next, a best of seven series between the Florida teams.
(34-18-2) Edmonton Oilers 4 vs. (24-21-10) Montreal Canadiens 3 - OT
The Canadiens lost but still clinched the North Division's final playoff spot thanks to Calgary's loss.
(39 pts) Burnley 2 vs. (27 pts) Fulham 0
Burnley moved up from 17th to 14th with the win to avoid relegation while ensuring Fulham is sent down to the EFL Championship league.
Stat: 3,053 days have passed since Tim Tebow played in an NFL game. Trevor Lawrence, his new QB, was 14.
Quote: "I am leaving ESPN. Salary cap casualty."
- ESPN journalist extraordinaire Kenny Mayne, who also runs a fantastic non-profit called Run Freely. It supports veterans getting back to full mobility.
Stat 2: Out of 6,500 NFL players who took the "Mental Aptitude Test," Justin Fields scored the best.
If you enjoy the Sprint, consider sharing it with a friend. Copy and paste this link to them: https://www.sidelinesprint.com
Or, you can share by clicking the button below.
Miami Heat (37-31) vs. Boston Celtics (35-33) - 7:30 ET on TNT
New York Knicks (38-30) vs. LA Lakers (38-30) - 10:00 ET on TNT
New York Yankees (18-16) vs. Tampa Bay Rays (19-17) - 7:00 ET on ESPN
Kansas City Royals (16-17) vs. Detroit Tigers (10-24) - 7:10 ET on ESPN+
Vancouver Canucks (21-26-3) vs. Winnipeg Jets (28-23-3) - 8:00 ET on ESPN+
(70 pts) Manchester United vs. (63 pts) Leicester - 1:00 ET on NBCSN
(41 pts) Crystal Palace vs. (37 pts) Southampton - 3:15 ET on NBCSN
A. John Stockton recorded 15,806 assists, almost four hundred more than second place Jason Kidd (12,091).
Written by Nathan, Blake, and Matt.
Was this email forwarded to you? Sign up here.
Shoot us a note. We reply to every email received.
© Sideline Sprint 2021.
145 New Bern St. Charlotte, NC 28209