Happy Friday.
Yesterday got as wild as we expected in the world of college sports with the new name, image, likeness rules:
BYU banned athletes from sponsoring coffee

Johnny Manziel reminisced on how much he would have made at A&M

Olivia Dunne, an LSU gymnast, launched a billboard in Times Square - with 4M TikTok followers, she's expected to be a high-earner
But, if I had to pick one best moment, that'd be an easy decision. It's Arkansas receiver Trey Knox and his husky, Blue,
partnering with PetSmart
.
P.S: We'll be back in your inbox Tuesday. Happy 4th!
⛳️ The greatest rivalry in sports.
🏈 New management in Washington.
🏀 No Giannis, no problem.
Trivia:
Who leads the MLB in home runs?
Vlad Guerrero Jr

Shohei Ohtani

Fernando Tatis

Kyle Schwarber
Answer at the bottom
🏈 Ex-USC running back Reggie Bush is looking to have his Heisman Trophy and college stats
restored
with the new name, image, and likeness (NIL) rule in effect.
"
It is my strong belief that I won the Heisman Trophy solely due to my hard work and dedication on the football field."
⛳️ Bryson DeChambeau and his caddie are going on a break. Brooks Koepka
poured fuel onto the fire
with his Twitter comments following the news: "It just became caddie appreciation day."
⚾️ The MLB announced the
All-Star game starters
. The most impressive? Shohei Ohtani, the LA Angles starting pitcher, is the American League's designated hitter.
⚽️ Unsurprisingly, Lionel Messi
fielded plenty of calls
during his first day of free agency, including ones from his boyhood club and the self-proclaimed "worst football team in the world."
Trouble in DC:
After a lengthy investigation into the Football Team's workplace culture, the NFL fined the WFT $10M.
Buried at the bottom of the NFL's letter, the league essentially suspended WFT CEO Dan Snyder from all football-related activity. Earlier this week, Snyder made his wife, Tanya, co-CEO. Now we know why. Here's the NFL's statement:
"As co-CEO, Tanya Snyder will assume responsibilities for all day-to-day team operations and represent the club at all league meetings."
Out of nowhere:
A surprising mover entered the NIL fray yesterday - Barstool. After being approached by athletes, the company spun up Barstool Athletics in less than a day. Each Barstool Athlete will get their own merch and access to the company's massive distribution network.
That's quite the sales pitch - Barstool helps grow their personal platform, sells the merch, and handles all logistics. No brand is more well known on college campuses (except, perhaps, Aramark). In one day, Barstool brought on:
Collin Gillespie, star Villanova basketball player

Nolan Turner, starting safety at Clemson

And many, many others
One thing could get interesting. Many school's NIL laws prohibit players from promoting gambling. Barstool, with its parent company Penn, is huge in sports gambling. Time will tell how it shakes out.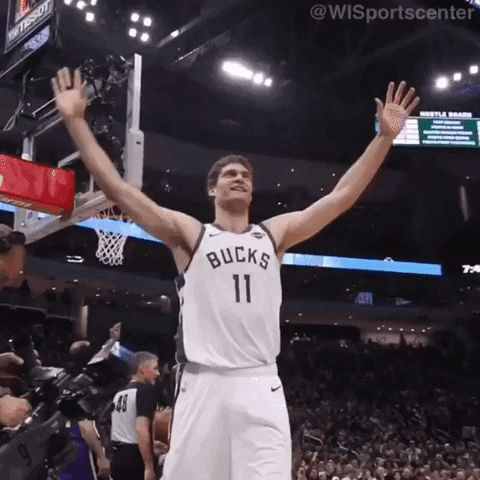 NBA Eastern Conference Finals
#3
Milwaukee Bucks
123
vs. #5 Atlanta Hawks 112
With each team missing their top option (Bucks - Giannis, Hawks - Trae Young), Milwaukee's other stars showed up big. Four players scored 20+ points.

Brook Lopez (33 pts, 7 reb) led all players in points and brought the intensity dunk after dunk.

Bucks lead the series 3-2.
(39-41)
Atlanta Braves
4
vs. (41-36) New York Mets 3
After allowing his first three earned runs on the road this year, Jacob deGrom retired 18 straight batters. The Mets lost another low-scoring game, keeping deGrom's win total well below expected.
Highlight 1:
Jackie Bradley Jr.
fooled Jacob Stallings
by making him think a deep fly ball was going out of the park, before catching the ball and throwing Stallings out at first.
Highlight 2:
Nick Kyrgios comically
asked a fan
where he should serve the ball for match point before finishing off his opponent in straight sets.
If you enjoy the Sprint, consider sharing it with a friend. Copy and paste this link to them: https://www.sidelinesprint.com
Or, you can share by clicking the button below.
NBA Eastern Conference Finals
#1 Milwaukee Bucks vs. #5 Atlanta Hawks - Sat. 8:30 ET on TNT
MIL -1.5

Bucks lead the series 3-2
NHL Stanley Cup Finals
#2 Tampa Bay Lightning vs. #4 Montreal Canadiens - Fri. 8:00 ET on NBC
ML: TB -135

Tampa leads the series 2-0
Soccer - Euro Quarterfinals
Switzerland vs. Spain - Fri. 12:00 ET on ESPN
The big one: Belgium vs. Italy - Fri. 3:00 ET on ESPN
Ukraine vs. England - Sat. 3:00 ET on ABC
Formula 1
Austrian Grand Prix - Sun. 9:00 AM ET on ESPN
MLB
NY Mets (41-36) vs. NY Yankees (41-39) - Sun. 7:00 ET on ESPN
B.
Shohei Ohtani leads the MLB with 28 home runs while splitting duty between right field and starting pitcher for the LA Angels.
Written by Nathan and Blake.
Shoot us a note. We reply to every email received.
© Sideline Sprint 2021.
2720 South Blvd #244, Charlotte, NC 28209