Happy Thursday that feels like a Wednesday. Let's get to it.
- Blake
🏀 Johnny stays in college.
⚽ England squeaks one out.
Trivia:
Who did the Tampa Bay Lightning defeat to win their first Stanley Cup? Hint: It was in 2004.
Anaheim Ducks

Edmonton Oilers

Calgary Flames

Colorado Avalanche
Answer at the bottom
🥊 In a move designed to bring more high profile fights to the state, Nevada voted to
stop disciplining fighters
(boxers, UFC, etc) for marijuana use.
🥇 Japan's
state of emergency
in Tokyo will last through the entire Summer Games. The plan likely means no audience of any sort at Olympic events.
🏀 Johnny Juzang, the star of UCLA's Final Four run, chose to
return to school
instead of entering the NBA Draft.
HOCKEY
Like Jordan 96'-97'
#3
Tampa Bay Lightning
1
vs. #4 Montreal Canadiens 0
Lightning goalie Andrei Vasilevskiy recorded a shutout in each of the team's last five series clinching games, winning the Stanley Cup Playoff's MVP award.

Tampa won the series 4-1.
While Tampa's win over Montreal felt relatively routine, they also beat two Stanley Cup favorites on their path to the title:
Carolina Hurricanes

NY Islanders
The bigger picture:
Founded in 1992, the Lightning are the youngest franchise to win more than one Stanley Cup. The crazy part? They now have three.
Is Tom Brady overrated? Is LeBron the GOAT? Do the Rangers have a shot at the pennant this year?
We've all got our spicy opinions. With Colorcast, people can finally share their hot takes on all things sports while the action is unfolding in front of them.
The new app is the next iteration in the social-audio revolution. Colorcast is transforming live sports consumption by allowing anybody, anywhere to engage audiences of like-minded fans during a game in real-time.
With live message boards, easy cast sharing, and proprietary syncing technology, Colorcast is providing an all-in-one social audio experience for fans, no matter their sport or their team.
Check out Colorcast here.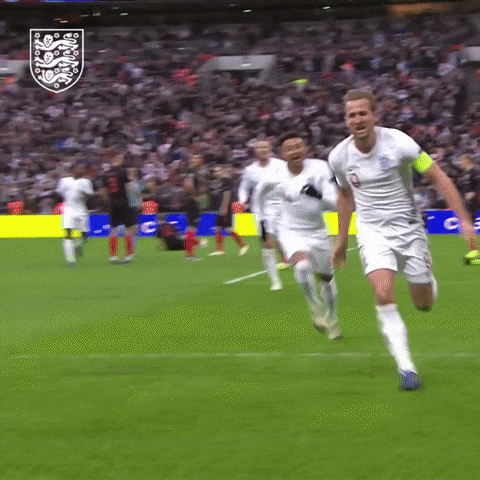 England
2
vs. Denmark 1 - Extra time
Denmark opened the scoring with a remarkable free kick before England quickly leveled.
In extra time, Harry Kane's penalty kick rebound put the game away. England dominated possession (58%) and shots on goal (10 to 3).

With the win, England qualifies for its first major tournament final in 55 years and its first ever Euro final.

For Denmark, a semifinal run is remarkable considering what happened to their best player, Christian Eriksen, in the tournament's first game.
England vs. Italy for the title of Europe's best is going to be amazing.
Tennis - Wimbledon Men's Quarterfinals
#14
Hubert Hurkacz
6-3, 7-6, 6-0
vs. #6 Roger Federer
The young Pole clinched his first Major semifinal appearance by defeating one of the greatest tennis players of all time. A Wimbledon semi without Federer will be weird.
The other three men's semifinalists are #7 Matteo Berrettini, #10 Denis Shapovalov, and (of course) #1 Novak Djokovic.
(45-38)
NY Mets
4
vs. (52-36) Milwaukee Brewers 3
After allowing two solo home runs, Jacob deGrom's ERA rose above 1.00 for the first time all season.
Enjoy this Sprint? Consider sharing it with your brothers. Copy-paste this link to them: https://www.sidelinesprint.com
Or, you can share by clicking the button below.
NBA Finals
#3 Milwaukee Bucks vs. #2 Phoenix Suns - 9:00 ET on ABC
PHX -5.5

Phoenix leads the series 1-0
Tennis - Women's Wimbledon Semis
#1 Ash Barty vs. #25 Angelique Kerber - 8:30 AM ET on ESPN
#8 Karolina Pliskova vs. #2 Aryna Sabalenka - 10:30 AM ET on ESPN
Philadelphia Phillies (41-43) vs. Chicago Cubs (43-44) - 8:00 ET on ESPN
C.
Tampa beat the Calgary Flames to win its first Stanley Cup in 2004. To this day, Tampa is the southernmost team to win it all.
Written by Nathan and Blake.
Shoot us a note. We reply to every email received.
© Sideline Sprint 2021.
2720 South Blvd #244, Charlotte, NC 28209