Good morning. If you'd like to delay the start of your workweek another five minutes, let us know what sections you get the most out of and which you can do without. We want to continue bringing you the sports news you care about.
- Nathan
In today's Sprint:
Trivia: What NBA team has had the most Hall of Famers on its roster? Yes, Shaq's brief stint on the Celtics would count.
LA Lakers

Boston Celtics

Philadelphia 76ers

NY Knicks
⚽️ Allison became the first goalie to score for Liverpool in the club's 129-year history. He did it with a 95th-minute header to beat West Brom. More perspective: he's the first Premier League goalie to ever score off a header.
🎾 Rafa Nadal, the king of clay, defeated Novak Djokovic to claim his 10th Italian Open title. Next up? Roland Garros (May 24th) where Rafa goes for his 14th French Open crown.
⚾ The Myrtle Beach Pelicans, a minor league baseball team, are doing dollar beer nights and serving them in massive Beer Bats. If you're in the great states of North or South Carolina, it may be worth a visit.
🏀 Steph Curry's been in his bag all season, securing his second scoring title by putting up 32.0 points per game.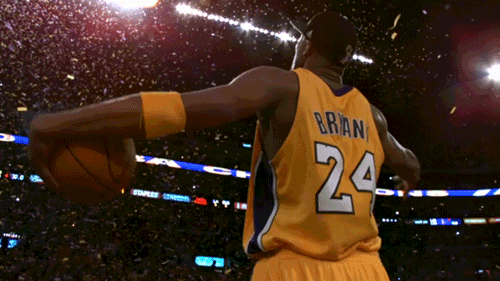 Kobe Bean Bryant was formally inducted into the Basketball Hall of Fame. Vanessa Bryant, his wife, and Michael Jordan delivered heartfelt speeches in his honor.
Vanessa: "Thank you for working so tirelessly to provide for us and for giving us the most amazing life together. Thank you for waking up at 4 a.m. to train, for making it home to kiss me good morning and for dropping our girls off at school. Only to go to practice, come home, and pick up our girls from school whenever you could."
Natalia Bryant, Kobe's eldest daughter, donned his Hall of Fame jacket and posed for photos with the other honorees.
The class was headlined by two other legends
Kevin Garnett - 15x All-Star, 9x All-Defensive First Team, 1x NBA champ, and an incredible trash-talker

Tim Duncan - 15x All-Star, 3x Finals MVP, 5x NBA champ, and the most casual superstar ever
Six other members, including former Baylor and current LSU coach Kim Mulkey, were also inducted.
Looking ahead: The 2021 Basketball Hall of Fame class includes Paul Pierce, Chris Bosh, and (personal favorite) defensive menace Ben Wallace - 4x NBA Defensive Player of the Year.
(41-21) New York Knicks 96 vs. (36-36) Boston Celtics 92
RJ Barrett (22 pts, 4 reb) looks like the dude who dominated at Duke, helping the Knicks clinch the East's four-seed.
(42-30) Portland Trail Blazers 132 vs. (47-25) Denver Nuggets 116
Portland clinched the coveted West's 6th seed behind seven double-digit scorers to avoid the play-in game.
Other top performers: Steph Curry (46 pts, 7 reb, 9 ast)
(24-15) Chicago White Sox 4 vs. (18-22) Kansas City Royals 3
The team from Chicago's south side owns baseball's best record. With stars Tim Anderson and Jose Abreu leading the way, there's no sign of them slowing down.
Playoff hockey is one of the world's best sports. If you haven't yet, watch a game. You won't regret it.
Minnesota Wild 1 vs. Vegas Golden Knights 0 - OT; Wild lead series 1-0
Wild goalie Cam Talbot recorded a ridiculous 42 saves to shut out the Stanley Cup favorites.
Tampa Bay Lightning 5 vs. Florida Panthers 4
Brayden Point scored two goals in the game's final seven minutes to boost the Lightning to the Game 1 W.
EPL: (83 pts) Manchester City 4 vs. (39 pts) Newcastle 3
Having already clinched the title, City relied on Ferrán Torres's hat trick, including this scorpion kick, for the win.
La Liga: Atletico Madrid 2 vs. Osasuna 1
Luis Suarez, who Barcelona told was too old to play at the top levels, scored his 20th goal of the year to keep Atletico on top of the La Liga table with one game to play.
FCS Football Championship
(10-0) Sam Houston State 23 vs. (8-2) South Dakota State 21
With both teams looking for their first title, it was the Bearkats who orchestrated a last minute TD drive for the win.
(2-0) New York Liberty 90 vs. (0-2) Indiana Fever 87
In her season debut, Sabrina Ionescu (25 pts, 6 reb, 11 ast) nailed the game-winner with .4 seconds remaining.
Stat: 40,116 - the number of fans who attended a match this weekend in the Atlanta United stadium, the largest worldwide soccer crowd since the pandemic began.
Highlight: Six days after dropping a studio album, rapper J. Cole scored his first bucket in the African Basketball League.
If you enjoy the Sprint, consider sharing it with a friend. Copy and paste this link to them: https://www.sidelinesprint.com
Or, you can share by clicking the button below.
New York Mets (18-16) vs. Atlanta Braves (19-21) - 7:00 ET on ESPN
Detroit Tigers (14-26) vs. Seattle Mariners (21-20) - 10:10 ET on ESPN+
Boston Bruins (33-16-7) vs. Washington Capitals (36-15-5) - 7:30 ET on NBCSN
Carolina Hurricanes (36-12-8) vs. Nashville Predators (31-23-2) - 8:00 ET on CNBC
B. From Larry "Legend" Bird to Bill Russell to newly inducted Kevin Garnett, the Celtics have had 41 Hall of Famers play for them in some capacity. The Lakers are the next closest with 32.
Written by Nathan, Blake, and Matt.
Was this email forwarded to you? Sign up here.
Shoot us a note. We reply to every email received.
© Sideline Sprint 2021.
145 New Bern St. Charlotte, NC 28209