Happy Friday. If you enjoy today's Sprint, why not send it along to a friend or two? And if not, tell us your favorite team and we'll send you a fun fact about them.
- Blake
In today's Sprint:
Trivia: Which active NHL player has scored the most goals in the Stanley Cup Playoffs?
Sidney Crosby

Patrick Marleau

Alexander Ovechkin

Evgeni Malkin
⛳ The NCAA canceled a women's regional, calling the course "playable but not championship level." Top teams and individuals will advance. As you can imagine, the golfers were furious.
🏀 The WNBA tips off its 25th season today. Amazon Prime recently acquired the rights to 16 games.
📺 La Liga, the top Spanish soccer league, will be featured on ESPN starting this fall… unfortunately, it'll be on ESPN+.
⚽ Inter Milan manager Antonio Conte organized a hilarious boxing match between himself and striker Lautaro Martinez who left their last game angry after being subbed off. Pretty clear why Inter sits 13 points clear atop Serie A.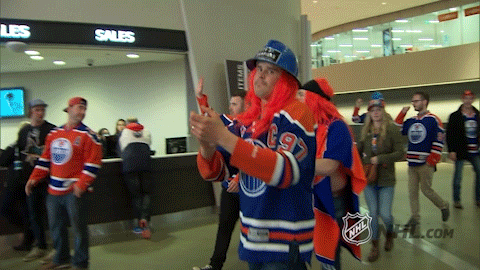 In a strange twist, the NHL's Stanley Cup Playoffs start tomorrow, but the regular season doesn't wrap until next Wednesday.
Funky Playoff format: The NHL realigned to four divisions with four teams making the playoffs from each division (16 playoff teams total). For the first two rounds, everything stays in house.
The top seed in each division faces the fourth seed, while the second faces the third.

The winners face off in the Second Round.
After the second round, the remaining Semi Finalists are reseeded based on regular-season point totals.
The favorites: The Vegas Golden Knights and the Colorado Avalanche are the favorites to win it all. The Knights lead the league in Goals Differential at +67 thanks to a stellar defensive line.
Above the border, the Toronto Maple Leafs clinched first place in the North and look to become the first Canadian team to win the Cup since 1993.
Longshots: Watch out for these talented underdogs to wreck some brackets.
Pittsburgh Penguins (+1300)

Boston Bruins (+1300)

Florida Panthers (+1500)
The prize: The 16 teams are battling for Lord Stanley's Cup, the most iconic trophy in all of sports. What Cup shenanigans can we expect from this year's winners?

Full Stanley Cup schedule here.
(45-25) Milwaukee Bucks 142 vs. (33-37) Indiana Pacers 133
The shorthanded Pacers had no answer for Giannis (40 pts, 15 reb, 6 ast).
(39-31) Miami Heat 106 vs. (47-23) Philadelphia 76ers 94
In his first three minutes of the season, captain Udonis Haslem got ejected after getting tangled up with Dwight Howard. A Miami legend.
(23-15) St. Louis Cardinals 2 vs. (20-18) Milwaukee Brewers 0
Cardinals ace Jack Flaherty became the first pitcher to reach seven wins. His opponent, Corbin Burnes, set the MLB record for most strikeouts to start a season without a walk (58).
(13-24) Detroit Tigers 4 vs. (16-20) Kansas City Royals 3
After a hot 16-9 start, the Royals have dropped their last eleven games.
(27-20-9) St. Louis Blues 7 vs. (35-16-5) Minnesota Wild 3
After finding themselves down three goals in the first period, the Blues scored a whopping seven straight goals for the win.
(60 pts) Liverpool 4 vs. (70 pts) Manchester United 2
Protesters deflated the tires on Liverpool's bus, but they couldn't deflate the team. The Reds top four hopes are still alive.
Stat: Blake Bortles and Aaron Rodgers have the same number of playoff wins since 2017. Two.
Quote: "I want to retire a Knick."
- Julius Randle after clinching the team's first playoff berth since 2013.
Highlight: This guy popped up his drive before smashing it at least 275 yards out of the air. It'll play.
Enjoy today's Sprint? Share it with a friend. Copy-paste this link to them: https://www.sidelinesprint.com
Boston Celtics (35-35) vs. New York Knicks (39-31) - Sun. 1:00 ET on ESPN
Memphis Grizzlies (37-33) vs. Golden State Warriors (37-33) - Sun. 3:30 ET on ESPN
Phoenix Mercury (0-0) vs. Minnesota Lynx (0-0) - Fri. 9:00 ET on CBSSN
Chicago Sky (0-0) vs. Washington Mystics (0-0) - Sat. 1:00 ET on ABC
Boston Bruins (33-16-7) vs. Washington Capitals (36-15-5) - Sat. 7:15 ET on NBC
New York Islanders (32-17-7) vs. Pittsburgh Penguins (37-16-3) - Sun. 12:00 ET on NBC
Tampa Bay Lightning (36-17-3) vs. Florida Panthers (37-14-5) - Sun. 7:30 ET on NBCSN
St. Louis Cardinals (23-15) vs. San Diego Padres (21-17) - Sun. 7:00 ET on ESPN
Tottenham (56 pts) vs. Wolves (45 pts) - Sun. 9:05 AM ET on NBCSN
B. Long-time veteran Patrick Marleau has been in the NHL since 1997 (I was 1). He recently became the League's all-time leader in both games played and playoff goals.
Written by Blake, Eric, and Nathan
Was this email forwarded to you? Sign up here.
© Sideline Sprint 2021.
145 New Bern St. Charlotte, NC 28209